Embarking on family adventures is a wonderful way to create lasting memories, strengthen bonds, and introduce your kiddos to the beauty of the great outdoors. When it comes to hitting the road with the whole family, choosing the right RV can make all the difference. We're diving into the world of family-friendly RVs and exploring the features that can turn your journey into a comfortable and exciting experience for the whole family.
1. Spacious Layouts for Comfortable Living
One of the key considerations when selecting an RV for family adventures is the layout. Look for models that offer spacious interiors with enough room for everyone to move around comfortably. Slide-outs can significantly expand the living space, creating areas where kids can play or relax, even on rainy days.
Check out the Dutchmen RV floorplans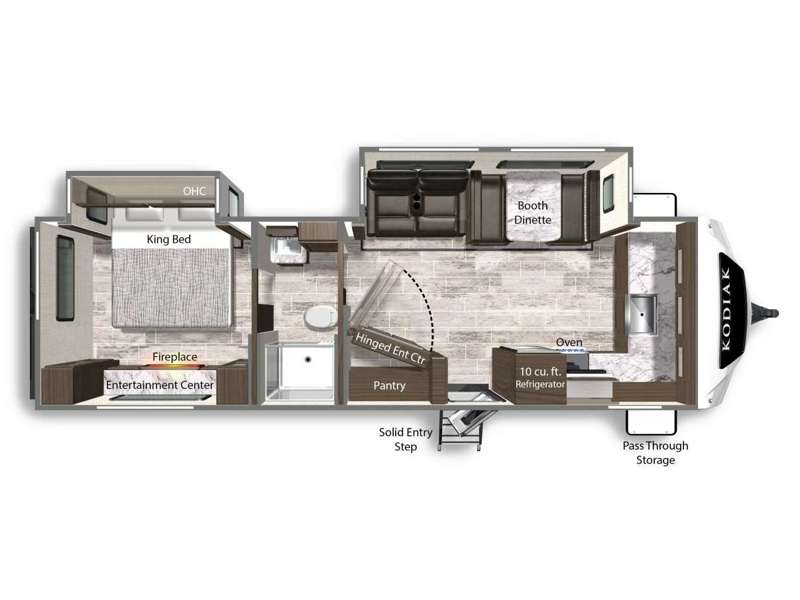 2. Bunk Beds and Kid-Friendly Sleeping Areas
Bunk beds are a hit among kids, providing them with their own space to sleep and hang out. Many RVs come with bunk bed configurations, making bedtime an exciting adventure. Many models often feature convertible furniture, allowing sleeping areas to transform into play or dining spaces during the day.
Check out our bunkhouse floorplans from Aliner, Coachmen RV, Forest River RV, Gulf Stream RV, Lance, Northwood, Outdoors RV, Palomino, Riverside RV, and Venture RV
3. Entertainment Systems for On-the-Road Fun
Long journeys can become tiresome. Equipping your RV with entertainment systems can keep the family engaged and entertained. Look for models with built-in TVs, DVD players, and even gaming consoles to ensure that the road trip remains enjoyable for everyone.
Check out the SportTrek models from Venture RV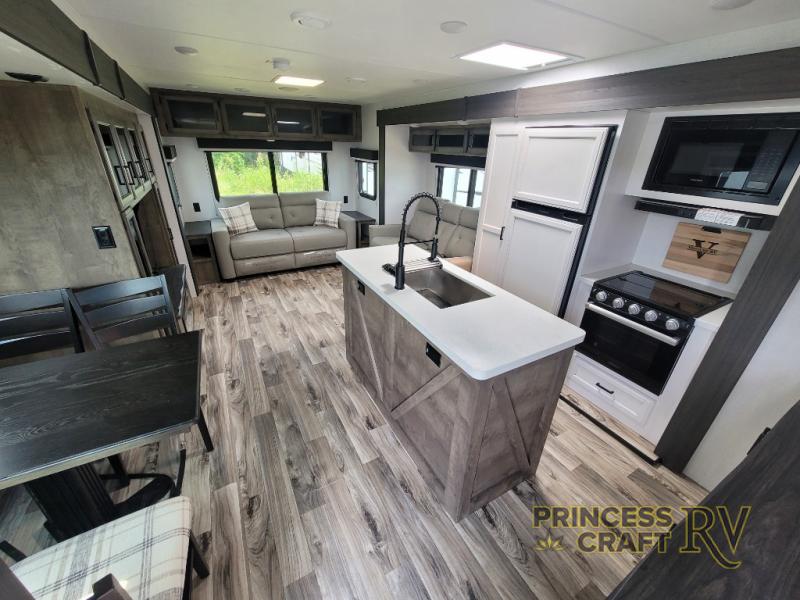 4. Outdoor Kitchens for Family Cookouts
Outdoor kitchens are a fantastic feature for family campers. They allow you to cook meals and enjoy outdoor dining while keeping the indoor cooking area clean. It's also a great way to bond and create cherished memories of family cookouts. And the bonus? You get to be outside together, enjoying nature!
Check out our units with outdoor kitchens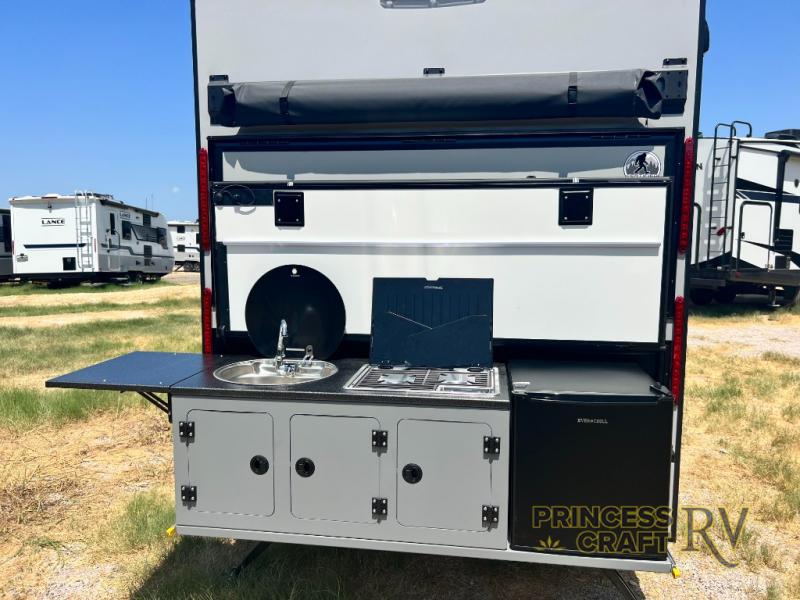 5. Storage Solutions for All the Essentials
Traveling with kids, pets, and friends means packing a lot of gear, from clothes to toys and everything in between. RVs with ample storage solutions, such as overhead compartments, passthrough storage, under-bed storage, and pantry space, can help you keep the living area tidy and organized throughout the trip. Additionally, many campers come with roof racks, perfect for tying up your gear without using the interior space.
Check out Lance travel trailers and truck campers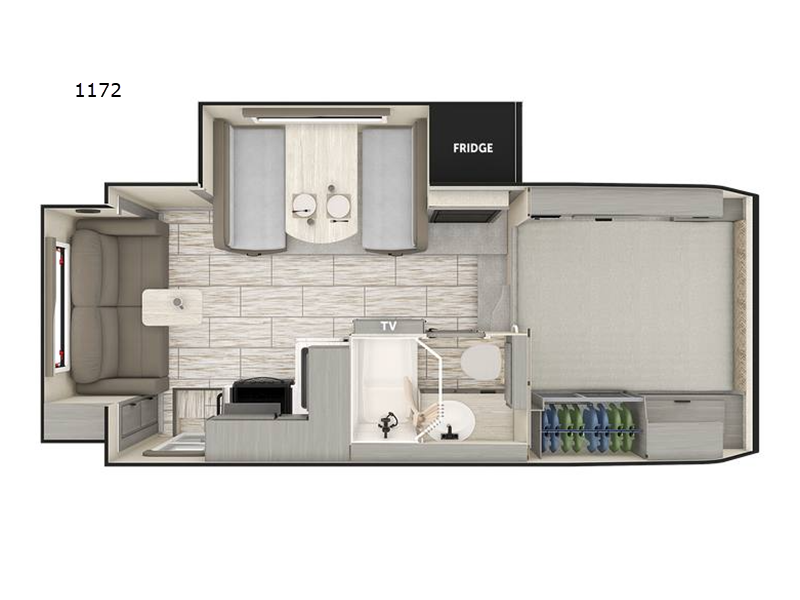 6. Outdoor Activity Gear Storage
Families often bring along outdoor gear like bicycles, scooters, and sports equipment. RVs with exterior storage compartments designed to accommodate these items make it easy to carry the necessary gear for family adventures, encouraging outdoor activities wherever you go.
Check out our off-road inventory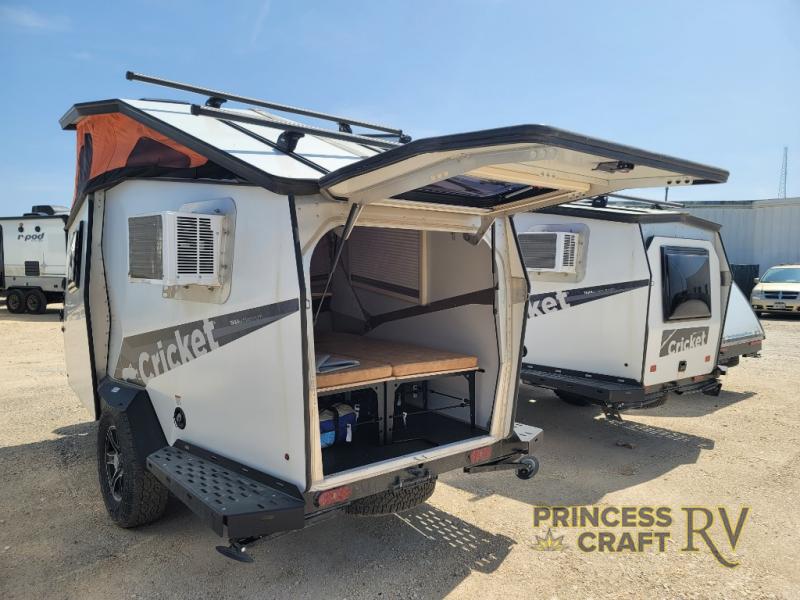 7. Kid-Friendly Campgrounds and Destinations
When planning your family RV adventure, consider destinations that offer kid-friendly activities, such as nature trails, playgrounds, and interactive museums. Research campgrounds that cater to families and offer amenities like swimming pools and organized events for children.
8. Quality Time and Unforgettable Memories
Ultimately, the most important feature of any family-friendly RV is the opportunity it provides for quality family time and the chance to create memories that will be cherished for years to come. Whether it's roasting marshmallows around the campfire, sharing stories under the stars, or embarking on outdoor explorations together, let your RV take you there!
In the end, choosing a camper with family-friendly features can enhance the joy and comfort of your adventures. From spacious layouts and bunk beds to entertainment systems and outdoor kitchens, these features are designed to make every journey a memorable experience for both children and parents. So, gather your loved ones, pick a destination, and set out on a family adventure that will be talked about around the dinner table for years to come.
Helpful Links: