The Cube Series Mission
The mission of Cube Series is simple. Create the next generation of campers that provide convenience without sacrificing quality and durability. The Cube Series truck camper does just that. This canvas-free lightweight truck camper is built with aluminum, composites, alloys, and renewable resources. With over 40 years of combined experience and a love for the outdoors, the makers behind the Cube Series have taken the truck camper industry to the next level. Oh, and did we mention this is a pop-up AND a hard-sided truck camper? Because of its unique build, this camper will fit in most standard-sized garages while still loaded on your truck bed. Seriously…the list goes on and on with how spectacular these truck campers are!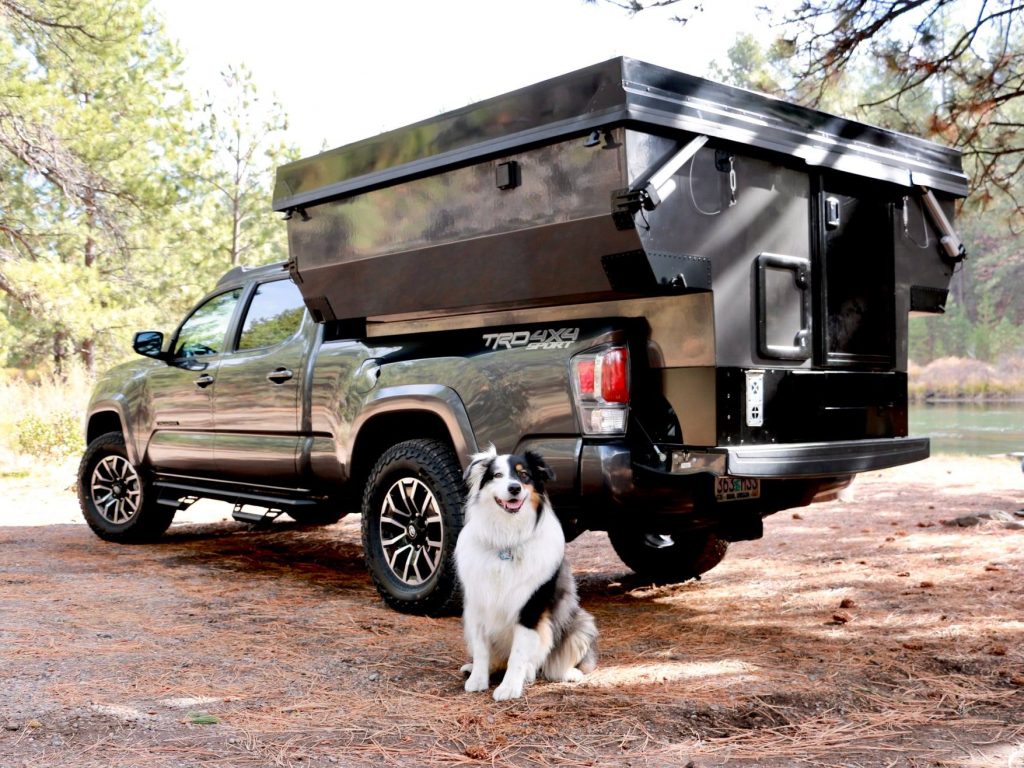 Minimalistic Truck Camper
The minimalistic interior gives off a cozy feel and features all the amenities you'd want from a larger camper – perfect for an off-grid experience. You'll be able to throw together your favorite meals with the 2-burner stove/sink combo. When not in use, the glass stove/sink cover gives you extra counter space for storage or additional room to prep your meals. Relax at the dinette that converts into your sleeping space and measures 75" long. The Thetford electric flushing cassette toilet and outdoor shower provide you with an additional level of convenience when camping off the grid. With vinyl flooring, cleaning the camper is a breeze. Plus, the aluminum cabinets throughout the interior provide great storage for extra clothes, shoes, and other necessities.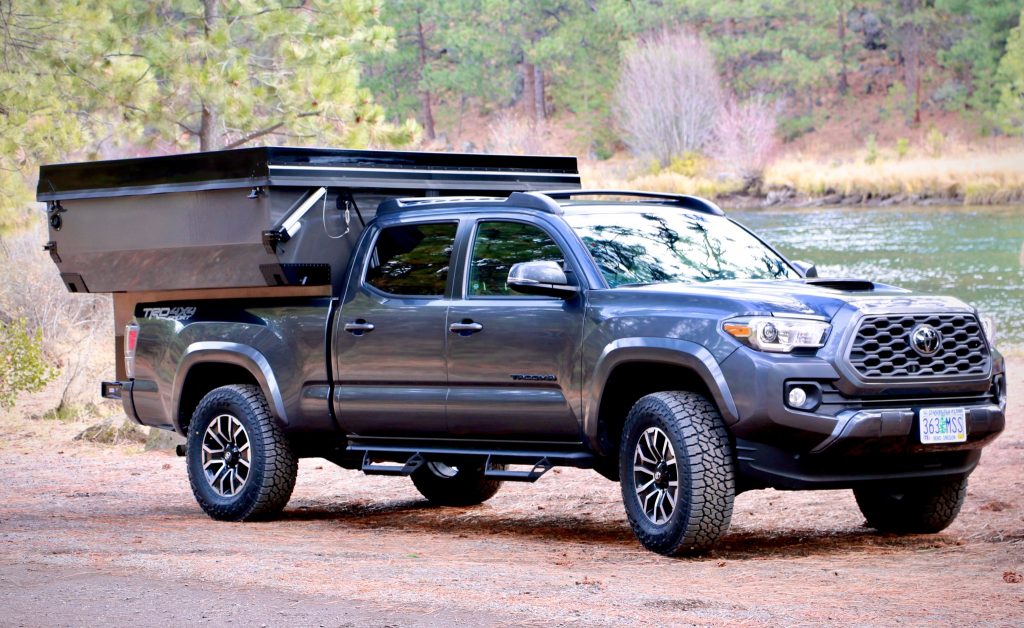 Innovative Loading Design
With a fast-load anchor system, packing up your camper and hitting the road is easier than ever. Because of this system, you won't need to invest in expensive tie-down systems aftermarket. Plus, having a canvas-free, hard-sided pop-up camper built with the materials mentioned earlier, the cube series truck camper is waterproof and well-insulated. Weighing in at only 1200 pounds, this lightweight truck camper can be towed by a Toyota Tacoma, Ford Ranger, or Chevy Colorado…just to name a few.
As a pop-up truck camper, you now have a lower profile that provides extra clearance to explore further. With an aluminum basement underneath, you can stow away all your favorite camping gear! Adventure is right around the corner with the Cube Series Truck Camper. For more information on how you can make this your new rig, call us at 512-251-4536.
Why We Love The Cube Series Truck Camper:
Durable
Lower Profile When Folded Down
Can Fit in a Garage
4 Season Camper
Can Fit on Most Pick-Up Trucks
Basement for Extra Storage
Helpful Links: