Calling all fellow travel enthusiasts and adventure seekers! If you're looking for the perfect travel trailer that combines convenience, innovation, and a dash of wanderlust, keep reading. The Aliner Ranger 10 might just be your ticket to unforgettable weekends and memorable road trips. We're diving into the original a-frame pop-up camper that's redefining the way we experience travel and adventure.
You're probably wondering, what sets the Aliner Ranger 10 apart from the crowd? Well, let's walk through this unique lightweight adventure trailer!
Compact Yet Spacious Design: Fits in Your Garage!
The Aliner Ranger 10 is all about efficiency without sacrificing comfort. One of the most intriguing features is its compact, a-frame design that can easily fit into your garage. That's right, no more storage hassles or expensive storage fees! This feature alone makes the Ranger 10 stand out in the world of lightweight travel trailers.
Lightweight and Nimble: Your Ultimate Travel Companion
For solo travelers seeking solitude or adventurous couples on the hunt for new horizons, the Aliner Ranger 10 is a game-changer. Its lightweight build ensures that you can hit the road without the stress of getting off the highway into the mountains. Maneuvering becomes a breeze, allowing you to explore those hidden spots that larger trailers can only dream of reaching.
Weekend Getaways Redefined: Comfort Meets Convenience
Inside the Ranger 10, you'll be pleasantly surprised by how spacious it feels. Its smart design makes the most of every nook and cranny, offering a cozy dining area, a comfortable sleeping space, and even a small kitchenette. Imagine waking up to a breathtaking view, brewing a cup of coffee, and savoring breakfast right at your home on wheels.
Why Choose Aliner?
Now, you might be wondering why the Aliner Ranger 10 stands out as the original a-frame pop-up camper. It's simple: Aliner pioneered this innovative design, offering campers the best of both worlds – the compactness of a pop-up camper and the ease of setup. Aliner's dedication to quality and craftsmanship is evident in every inch of the Ranger 10. When you choose Aliner, you're choosing adventure.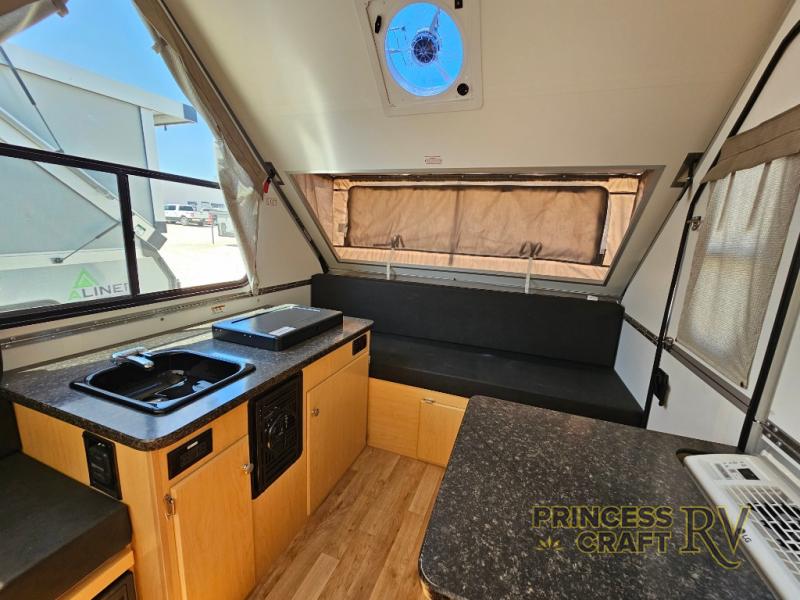 Your Ticket to Adventure Awaits
So, whether you're a solo traveler seeking solitude or an adventurous couple ready to explore the great unknown, the Aliner Ranger 10 is the perfect partner in crime. Its unique design, garage-friendly size, lightweight construction, and comfortable amenities make it an ideal choice for those seeking a weekend getaway that's both convenient and exhilarating.
If you're excited to embark on your next adventure with the Ranger 10, don't miss out on the opportunity to make it yours. Check out our in-stock Aliners to learn more about this lightweight travel trailer and how it can transform your travel experiences. Get ready to redefine freedom on the open road with the Aliner Ranger 10!
Why We Love The Aliner Ranger 10:
Fits in your garage
Spacious Interior
Separate dinette and lounge area
Kitchenette
Helpful Links: