If you're ready for a memorable camping experience that combines comfort, convenience, and the freedom to explore, look no further than the Wolf Creek 850 Truck Camper by Northwood. Designed to provide a cozy home-away-from-home while offering modern amenities, this camper is your gateway to thrilling adventures, whether you're planning an extended trip to the rugged wilderness of Alaska or a serene weekend getaway to the beach. Discover the remarkable benefits of camping in a truck camper that blends high-quality construction with rustic charm.
Explore the Great Outdoors with Peace of Mind
The Wolf Creek 850 Truck Camper is built to withstand the demands of cross-country travel, thanks to its high-density block foam insulation and multi-layered substrate walls. No matter where your journey takes you, this camper's one-piece fiberglass construction ensures lasting protection against leaks, ensuring years of worry-free exploration.
Your Cozy Cabin on Wheels
Step inside, and you'll instantly be enveloped in a warm, rustic cabin ambiance. The dinette offers a comfortable space to work remotely or unwind with your favorite book. But that's not all – this versatile dinette also transforms into an extra sleeping area for guests, children, or even your furry companions. Need even more space? The Wolf Creek 850 features a hidden bunk above the dinette, ready to accommodate your additional sleeping needs.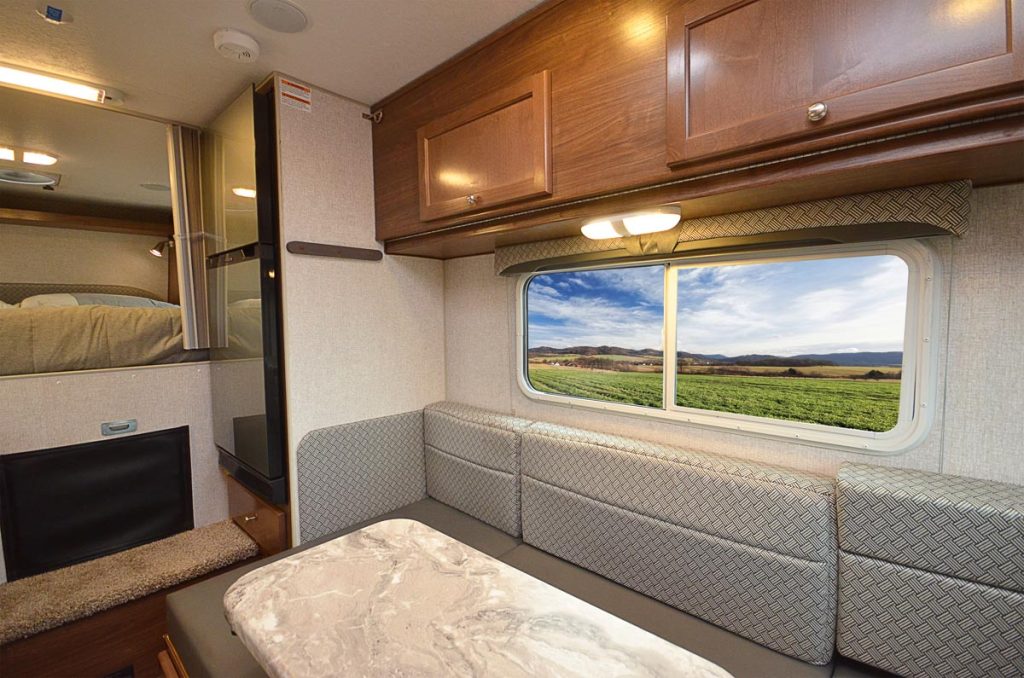 One-Piece Fiberglass Bathroom
Experience the convenience of a one-piece fiberglass wetbath, complete with a skylight that bathes the space in natural light throughout the day. Worried about leaks? Rest easy, as this bathroom is designed to keep water where it belongs – inside the shower, not in your camper.
Efficient Kitchen Space
Prepare delicious meals while surrounded by the beauty of nature in the Wolf Creek 850's compact yet well-appointed kitchen. Equipped with a three-burner stove, microwave, and spacious sink, you'll have all the tools you need to satisfy your culinary cravings. Plus, Wolf Creek has thoughtfully added a dedicated knife storage spot behind the stove, ensuring your kitchen remains organized and functional. With plenty of pantry space and overhead cabinets, this kitchen offers excellent storage options for your camping adventures.
Truck Storage Access Points
One standout feature of this truck camper is its entry points to the bed of your truck. This space is perfect for storing wet clothes or muddy shoes, keeping your living area clean and clutter-free.
Comfortable Cabover Bed Area
The cabover bed area is a haven of comfort and organization. A generously sized wardrobe with a hanging rod ensures your clothes stay wrinkle-free and accessible. Cabinets on both sides of the bed offer additional storage space, allowing you to keep your essentials within arm's reach. Additionally, the windows on both sides of the bed provide excellent airflow, ensuring you stay cool and comfortable when you don't want to run your A/C.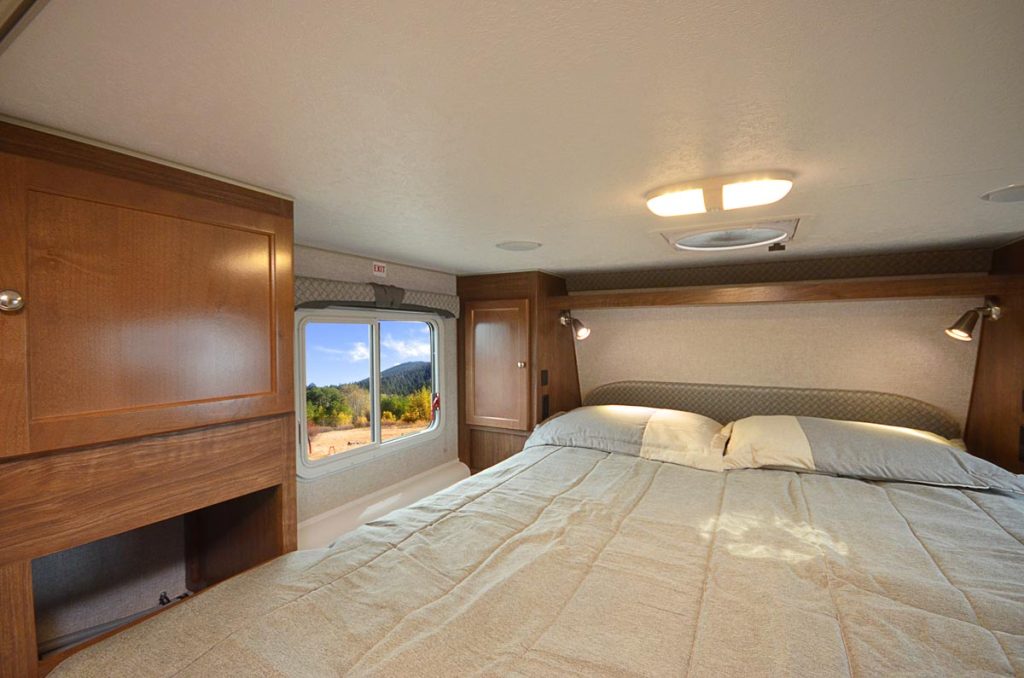 Don't miss out on the incredible experiences that await you in this truck camper. Embrace the freedom of the open road and the comforts of home as you embark on unforgettable journeys. Say goodbye to ordinary camping and hello to extraordinary adventures with this remarkable truck camper!
Why We Love The Wolf Creek 850 Truck Camper
Three Wardrobes
Truck Storage Access Doors
Fox Landing Steps
Bunk System
Helpful Links: