In a world filled with hustle and bustle, it's time to escape the chaos and embrace the serenity of nature. Enter the RPOD 171, a charming travel trailer designed for those seeking a cozy retreat away from the noise of everyday life. Whether you're a couple looking for a getaway or a small family ready for new adventures, the RPOD 171 provides comfort and style as you explore the great outdoors.
Comfortable Sleeping Arrangements:
One of the standout features of the RPOD 171 is its thoughtful sleeping arrangements. The rear RV queen bed provides a comfortable space ensuring a good night's sleep after a day of outdoor exploration. Additionally, the front dinette can be easily transformed into an extra sleeping area, making it ideal for a small family or hosting guests. On rainy days, the dinette provides a great space for kicking back and reading your favorite book, or gathering for a game night.
Well-Equipped Kitchen and Entertainment:
The RPOD 171 doesn't compromise on convenience. The kitchen area is equipped with everything you need to whip up delicious meals on the go. Seamless countertops, shaker style cabinetry, and ample storage space make cooking in the great outdoors a breeze. With a convection oven and a two burner stove, meal options are endless.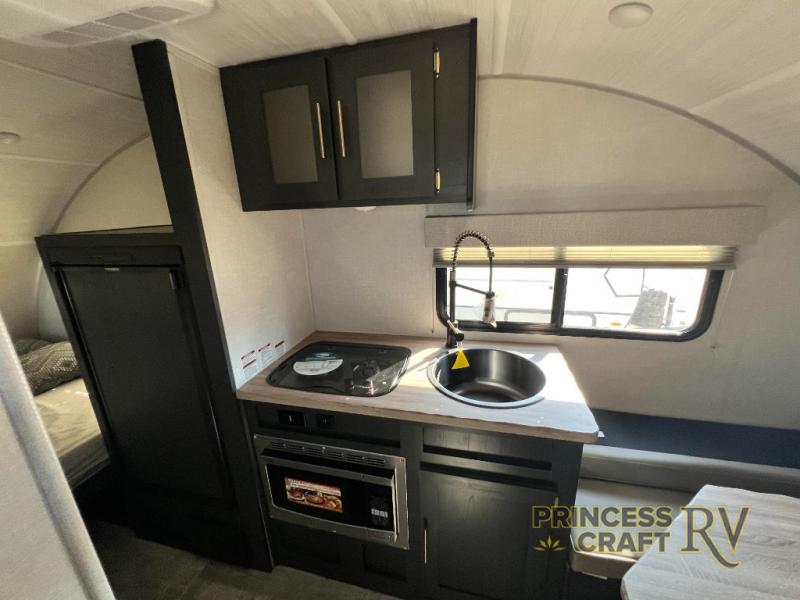 Entertainment is not forgotten in this quaint RV. An LED TV ensures that you can unwind with your favorite movies, creating a cozy atmosphere inside for those evenings when you just want to relax.
Smart Design and Durability:
The RPOD 171 is not just about comfort; it's about intelligent design and durability. The Azdel composite panels ensure resistance to water damage, providing peace of mind during unexpected weather changes. The Carefree flooring, designed for easy cleaning, is a practical touch for those who want to spend more time enjoying their surroundings and less time on maintenance.
Exterior Amenities:
Stepping outside the RPOD 171, you'll find a world of amenities designed to enhance your outdoor experience. LED exterior lights illuminate your campsite, while outdoor speakers add a touch of music to your natural surroundings. The pass-through storage ensures that all your camping gear is easily accessible, making set-up and pack-up a breeze.
In a world where simplicity and connection to nature are increasingly valued, the RPOD 171 stands out as a beacon of coziness and convenience. Whether you're a couple seeking a great escape or a small family ready for a new adventure, this travel trailer offers a perfect blend of comfort and style. Embrace the allure of the great outdoors without sacrificing the comforts of home! It's time to make memories that will last a lifetime with the RPOD 171.
Helpful Links: