Happy 80th Episode and 2-year Anniversary from RV Small Talk Podcast!
Come along and join PJ, Lindsay and Clint as we celebrate our 2-year anniversary show on the Great Podcast Adventure of 2019-2021, not to be confused with the not-so-Great Ice Storm of 2021, nor the Great COVID of 2020, also similarly perhaps in need of revisiting for name's sake, the Great Depression of the 1930's. What was so great about those? While we are not sure… we know for certain this anniversary show is packed full of our memories from the past 80 episodes, an amazing 2 years with you, our friends and fans. Before we get too nostalgic about your favorite podcast and RV show, and before the coffee wears off, please have a listen to the podcast on your favorite podcast streaming platform (links below!) or visit our RV Small Talk Podcast website, and enjoy a recap of our best RV Podcasts (so far!).
Episode 1 | Let's Get Rolling! RV Small Talk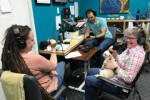 Ribbit. Ribbit… is this thing on? Every amazing adventure starts with a bit of a kicker… and our first episode was no different. One could say the princess found the last frog to kiss, and from the frog came the RV Small Talk Podcast! Despite all the ribbits, oops – odds, PJ, Lindsay and Clint got it all started with dad jokes, insights and sharing their RV camping love. Our first guest, Susan Moore and Bella, shared her great experiences in the RV small trailer life, her adventures solo(human) camping, how to get started… and is it safe? Susan walked us through some of the best BBQ, parks and is an overall wealth of info – and one of our choice rv podcasts and highest listened to RV show to date!
Episode 16 | First Aid, CPR & AED Basics for Every RV'er
One of Clint's favorite guests, friend and former co-teacher, Teri Lucas, also a great friend of the RV Small Talk Podcast, shares her experiences in CPR certification. Her story starts with the tragic story loss of her son but impressed us all with her strength and empowering efforts to help others feel safe when RV'ing, and how to respond to any crisis or situation with emergency medical with common measures to prevent the need to get the medic kit out and knowing what to do, when you must! Remember, don't panic, just listen to the RV show!
Episode 26 | Truck Camper Baby's Epic Adventure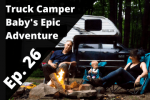 We talked with Mica and Andrew as they made it in a camper with their 8-month-old baby across country! Amazing, great, fun energy with stories about daily small trailer living, and we remember as they made a point to hike every day, at least a mile. Rain/snow, it did not matter – the RV show must go on! They also shared a funny story during the RV Small Talk Podcast about how they got into the RV renovation world, too. Fun folks on a journey and having a blast!
Episode 30 | Princess PJ and an Unlikely Dealership
In this ultimate nostalgia fueled origin story, even Lindsay learned a few things about the family, in this trail down memory lane. Secrets, surprises and a whole lot more popped up along the RV Small Talk Podcast journey, mainly our origins not just an RV show or RV podcast, but a dedicated team to earning our customers business, and welcoming every opportunity to do at least a little good at Princess Craft – RV Dealership in Round Rock, Texas. You'll want to grab some popcorn and a comfy chair and listen in to PJ tell the ultimate Princess tale. The old central-Texan legend, known near and far to the folks who gather around to hear, as the story of the Realm of Princess Craft and the Princess PJ.
Episode 40 | Finding Local Adventure with The Daytripper Chet Garner |
'Oh my God I'm sitting next to the day tripper!' and we were all in agreement! Such a cool day with an amazing storyteller. Energy level and love of Texas rarely beaten in the legend, Chet Garner. He also has a show on the Texas Public Broadcasting Channel – Sunday mornings, where he visits a town in Texas and shows where to eat and fun things to! Chet is an entertaining, goofy and fun knowledge keeper. Google Daytripper where you can watch his shows online and check out his pre-planned out guides for places to visit – and of course, the best BBQ!
***
Here's some more Princess Craft and RV Small Talk Podcast rv show favorites from our 80th episode anniversary show:
Episode 12 | Camp Coffee Jitters | CRUX Expedition Trailers | Noobie Truck Campers
Episode 17 | Can My Truck Tow the Weight?
Episode 19 | Travel and Camping with Dogs 
Episode 25 | Airstream Restoration with Trailer Trashin
Episode 36 | Our Own RV Guru and RV Safety Devices
Episode 50 | Grounded Outside for Sanity's Sake
Episode 57 | Black Folks Camp Too with Earl B. Hunter, Jr.
Episode 59 | Internet for RV'ers – DEEP DIVE for Data and Wi-Fi
Episode 78 | RV Gear That Can Save Your Life
---
PRINCESSCRAFT.COM
PRINCESS CRAFT RV IS THE #1 TRUCK CAMPER AND CAMPER DEALERSHIP IN ROUND ROCK, TEXAS.
GIVE US A CALL TODAY: 512-251-4536
Check out our current inventory here: BUY ONLINE | RENTALS