Embark on a thrilling off-road adventure and immerse yourself in the beauty of the great outdoors in the 10LHRK. This versatile travel trailer is packed with features designed to enhance your camping experience. From its rooftop tent to the spacious interior and off-road capabilities, the Ibex 10LHRK has some for every nature enthusiast.
Rooftop Tent and 270-Degree Batwing Awning
A standout feature of the Ibex 10LHRK is its rooftop tent. This spacious tend it a game-changer for camping enthusiasts. It can comfortably accommodate two or three people, making it a top choice for families or groups of friends. Whether you're stargazing or dodging rainy weather, this rooftop tent has you covered…literally. Set up and teardown will be a breeze, allowing you to make the most of your outdoor experiences.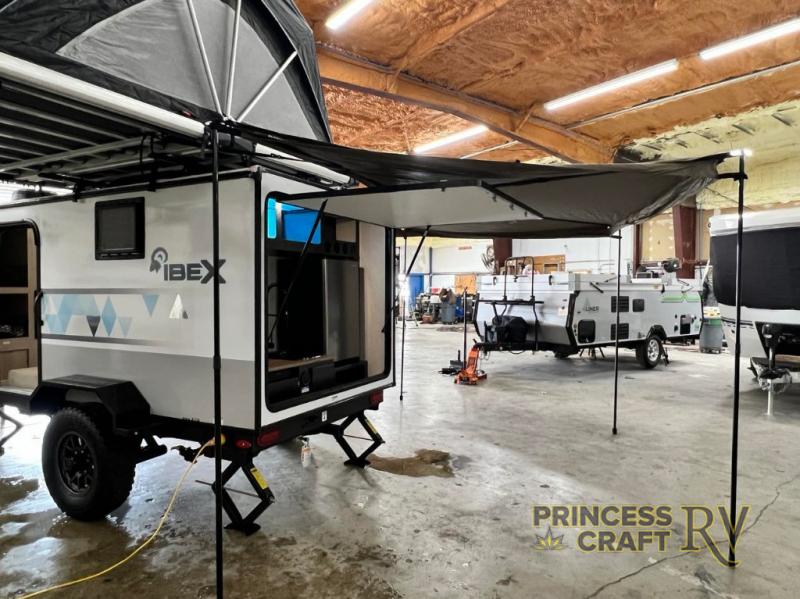 In addition to the rooftop tent, the Ibex 10LHRK boasts a 270-degree batwind awning. This awning provides ample shade and shelter, making it the perfect spot for outdoor meals or relaxation. With these features, you'll have the flexibility to adapt to different camping scenarios and weather conditions.
Versatile Sleeping Options
The Ibex 10LHRK offers versatile sleeping options to accommodate every member of your crew. Inside the trailer, you'll find a comfortable queen-sized bed/sofa combo, perfect for windown down after a day of exploration. The cozy interior also features a fireplace, providing ambient lighting and warmth on chilly nights. To keep the kiddos entertained during downtime or adverse weather, the 32" 12V TV comes in handy.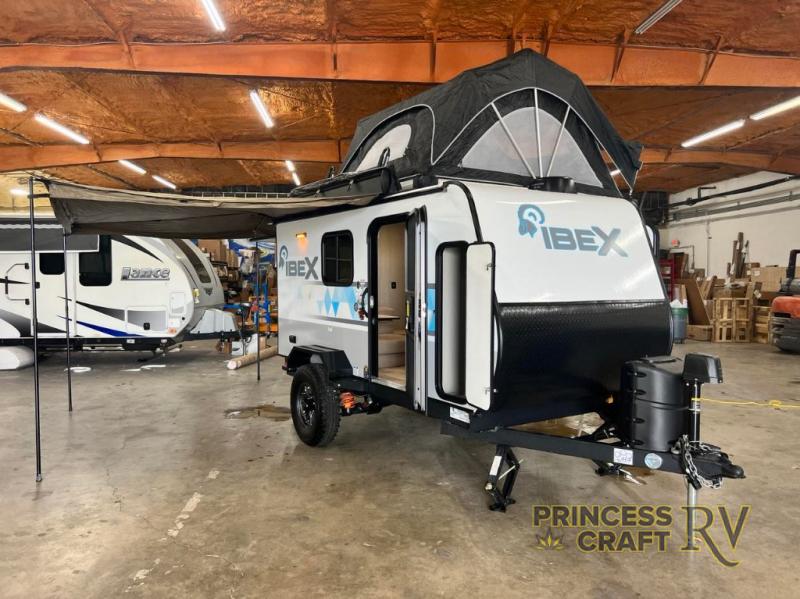 Prefer sleeping under the stars? No problem! The rooftop tend with a king-size sleeping area is the ultimate choice for elevating your camping adventures. This spacious area is not only perfect for a restful night's sleep, but also offers an exciting and fun space for the kids to hang out.
Functional Interior
The interior of this off-road teardrop trailer is a blend of comfort and functionality. The storage compartments are designed to accommodate all your camping gear, clothing, and essentials, ensuring you have everything you need for a great getaway. The large refrigerator, two-burner cooktop, and sink make whipping up meals a breeze. Whether you're preparing a sunrise breakfast or a dinner under the stars, this rear kitchen has you covered! Additionally, the rear kitchen includes storage cubbied for your spices, snacks, drinks, and other food items.
Durability and Off-Road Capabilities
The Ibex 10LJRK is built to last, featuring Azdel construction and a PVC roof that enhances its durability. With this trailer, you can look forward to years of making cherished memories in the great outdoors. Its off-road tires and increased ground clearance make off the grid adventures a breeze, allowing you to reach even the more remote and scenic destinations. The trailer's rugged build is complemented by an off-road wireless Bluetooth audio system from JBL, allowing you to listen to your favorite tunes while on the road.
The Ibex 10LHRK off-road teardrop trailer is your ticket to escaping the hustle and bustle and immersing yourself in nature's beauty. With its rooftop tent, spacious interiorm and off-road capabilities, it offers everything you need for a memorable outdoor adventure. Whether you're camping with family or friends, this versatile trailer is designed to enhance your camping experience, providing comfort and convenience in the great outdoors. So, pack your bags, hit the open road, and let the Ibex 10LHRK be your trusted companion for exploring Mother Nature's wonders.
Why We Love The Ibex 10LHRK:
Fireplace
Rooftop Tent
Off Road Capabilities
270-Degree Batwing Awning
Rear Kitchen
Helpful Links: