This week's walkthrough with PJ of the 2021 Adventurer 80RB Truck Camper is a self-contained and full featured truck camper incorporates a comfortable bathroom complete with shower and toilet as a standard feature. All this in a package designed exclusively for today's most popular light-duty full-size super short, short, and long-bed trucks. Lightweight and affordable, this truck camper comes with a far forward COG, and an Adventurer camper exclusive 6 foot roll-over sofa that makes into an additional bed. Plenty of sleeping space for your entire camping family or friends!
Weighing in at under 1800 lbs., and a top cost under $25,000 with all the options included, this truck camper is a must see for anyone considering a new truck camper purchase. The open spaces in neutral colors with large windows make the space feel comfortable and spacious. Windows open for cross breeze, and plenty of storage cabinets in the dinette. Stereo controls(stereo is an option to add), along with speakers inside or out. Awning addition over the back door keeps you covered during inclement weather and precipitation, while you take your boots off and keep the inside dry and cozy. Interested in purchasing a new Adventurer 80RB Truck Camper? Check out availability from Princess Craft here: Adventurer 80RB Truck Camper.
Adventurer 80RB Truck Camper | Features and Options
Large sofa with removable table atop a rubberized floor, making it super easy to clean, and provides for perfect traction when moving around your truck camper. Compact bathroom including a shower and toilet with a skylight for additional headroom and fan for venting. Natural curves leading into the kitchenette with plenty of counterspace, two burner stove with an iron grate. Storage underneath with a 12 inch deep sink and high arch faucet. Pre-wired for solar, controls over the hood vent placement, along with monitor panels for tanks and battery chargers. 15 gallon fresh water tank, 6 gallon grey water tank and a 6 gallon black water tank. Not huge, but workable for a compact truck camper like the 2021 Adventurer 80RB Truck Camper. Many more features to check out in the video above!
Check the full feature and options list on the Adventurer 80RB Truck Camper on the Adventurer campers website.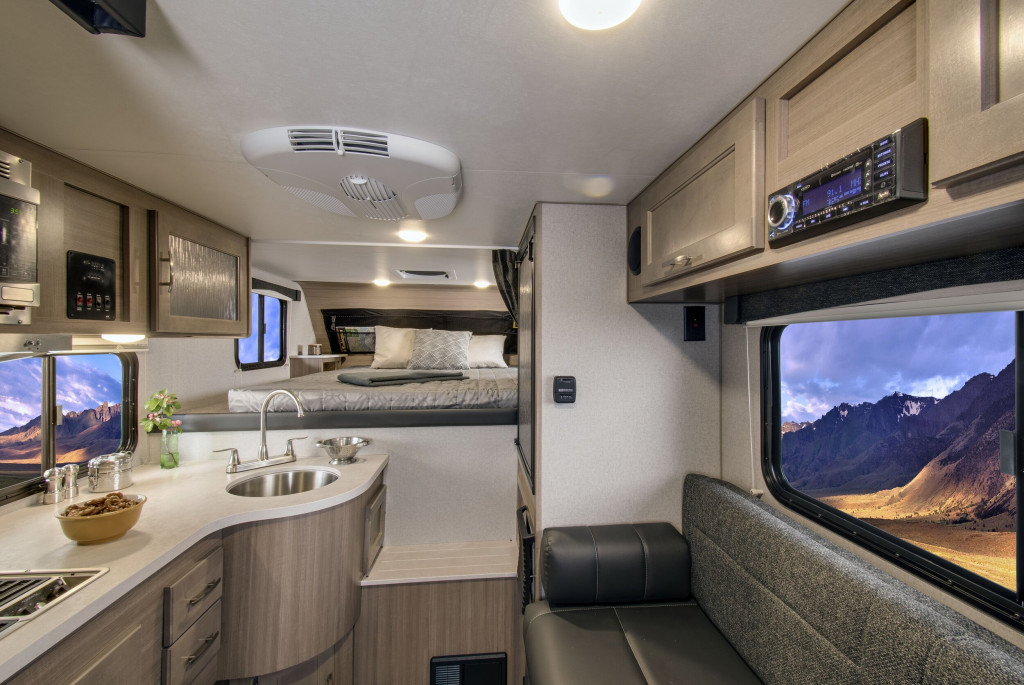 ---
History of Adventurer RV
If you're not familiar with Adventurer RV, they were founded in 1969 by Erdman Epp, who had been a general manager for a co-op store in western Canada for twenty-two years. He then found himself looking for work and purchased a camper company in 1969 with five employees. It was there that the Epp family began it's journey into the RV industry.
Erdman created a focus on hard work and attention to detail in his staff and family members, as he wanted to build a company with good business ethics and nothing made him happier than a satisfied customer. Following that philosophy, Adventurer brings over 50 years of industry knowledge to their camper models. Demonstrating a proven ability to listen and respond to our customers' needs, Adventurer has consistently developed its product to stay at the head of the industry.
---
PJ's RV Tours
Subscribe and 'Like' the Princess Craft RV YouTube channel and turn on notifications on to stay up-to-date on the latest walkthroughs with PJ from Princess Craft. Detailed  walkthroughs of the latest models and makes of all brands of RVs, you'll be the most informed RV enthusiast around!
About Princess Craft
Princess Craft Campers is a RV dealer in located in Round Rock, Texas carrying a wide variety of fantastic new RVs for sale, as well as used RVs for sale. We also offer RV rentals for those looking for a more temporary RVing option. No matter what you are looking for in terms of RVing, we can absolutely help out! If this sounds like what you are looking for, make sure that you contact us today for more details on RV unit sales and service appointment availability.