nüCamp features a lineup of lightweight trailers for your camping style available at Princess Craft RV in Round Rock, Texas. Some of our customer's favorite nüCamp models include the nüCamp TAB 320s and nüCamp TAB 400. Depending on your camping style and preferences, the nüCamp TAB 320s features a wet bath, expandable split bed, interior kitchen and stainless steel sink, whereas the nüCamp Tab 400 is the most spacious model featuring an RV queen bed, large picture window, and innovative style that customers have come to expect and love from nüCamp.
Check out each of the unique model features of this favorite teardrop manufacturer highlighted below. Please visit nüCamp's website for more information on the different TAB models available, and when you're ready to purchase, give us a call or visit us for superior sales assistance and any service needs for your nüCamp TAB 320s or nüCamp TAB 400.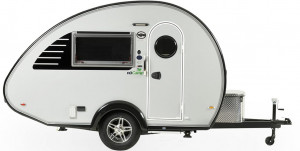 ---
nüCamp TAB 320s
When the iconic teardrop trailer comes to mind, it probably looks a lot like the nüCamp TAB 320s. We admire the sleek yet rugged exterior with the lake-water like reflections forming off the polished veneer, reflecting the colors of the early morning, day and evening brilliantly. All while maintaining a compact composure, that's almost enticingly boastful of the adventures it has seen, or will see soon!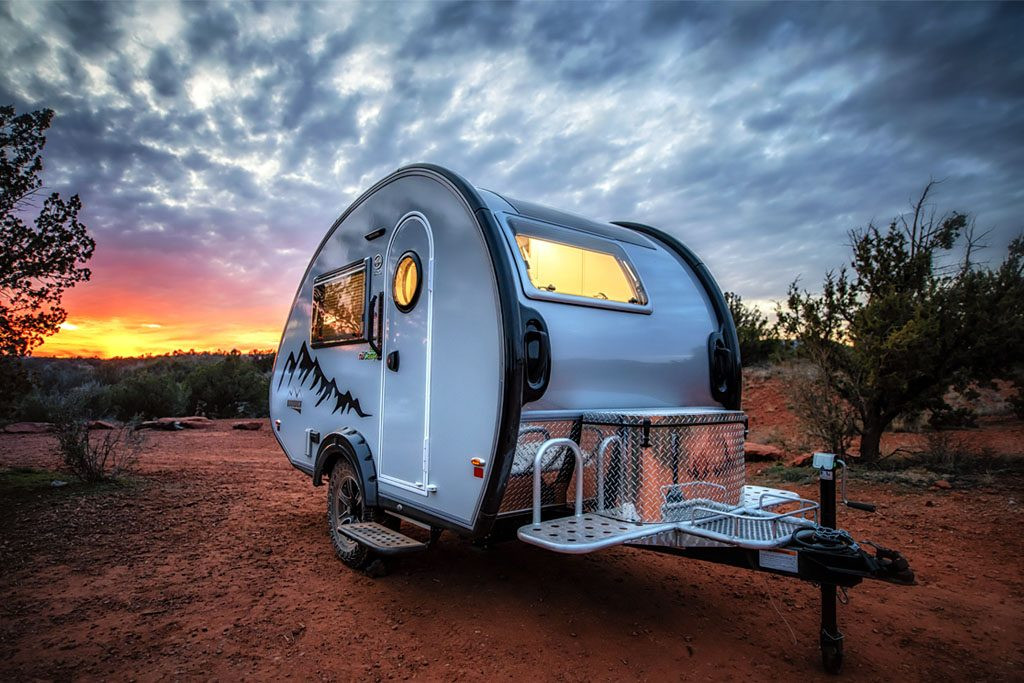 nuCamp TAB 320s
The nüCamp TAB 320 teardrop trailers set the trend for compact camping without leaving out the essentials you want!  This iconic teardrop is the perfect choice for those last minute plans and outdoor adventures! The unique design makes it easy to tow and store, plus you will enjoy the natural lighting and views from the front window, the acrylic dual pane windows, and the portal window.  Each offers a wet bath and an air conditioner for total comfort when inside. Whether you enjoy cooking indoors or outdoors, you will find the perfect TAB 320 for you.
Check out the available to order 2022 nüCamp TAB 320s units from Princess Craft and visit us or give us a call with any questions. While you're considering a purchase from Princess Craft RV, watch PJ's walkthrough of the nüCamp TAB 320s below:
Princess Craft – PJ's Walkthrough of the nüCamp TAB 320s

---
nüCamp TAB 400
If you're looking for a more spacious experience, the nüCamp TAB 400 is the most spacious model, while still retaining the teardrop form and amazing amenities as the smaller models.
nüCampTAB 400
With noticeable differences from the nüCamp TAB 320s, first of all being overall size, the nüCamp TAB 400 carries its own, and then some. The interior consists of a large picture window, two-burner glass-top stove, central heat and water system and a wet bath with a fold-down sink, toilet and shower. Music lovers will rejoice at the Bluetooth media center with a 24″ TV to keep the kiddos occupied in those hours leading up to bedtime, or the occasional rainy day.
Princess Craft offers the nüCamp TAB 400 with and without the boondock package, with details available on the nüCamp website along with additional options. Check out the available to order nüCamp TAB 400's on PrincessCraft.com. If you're looking for more information, be sure to check out our thorough walkthrough with PJ of the nüCamp TAB 400 on YouTube:
Princess Craft – PJ's Walkthrough of the nüCamp TAB 400

---
SPONSORED POST
This blog post is sponsored by nüCamp RV as part of the Fall 2021 Texas Tiny Trailer Rally at the Skyline Ranch RV Park in Bandera, Texas. For more information on nüCamp RV, please visit www.nuCampRV.com. For more details on the Texas Tiny Trailer Rally, please visit www.TexasTinyTrailerRally.com.
---
Princess Craft RV in Round Rock, just minutes from Austin, Texas, offers a wide selection of lightweight travel trailers and truck camper models for your next RV purchase. Princess Craft RV service and RV parts departments provide the best RV maintenance and repair services, and we are happy to assist you with our selection of RV parts and accessories.
Princess Craft RV