That is always the big question for anyone looking for their first…  or their next lightweight travel trailer. If it's your first, then there are so many questions you think you should ask, you have researched and been told to ask, or you are just curious about so you have to ask!  If it's your second, third, or next of many trailer, then you have a list of what you didn't like in the previous ones, and you are searching for something different then that! Either way, here is a list of the Top 10 things we think you should consider when searching for your perfect trailer, no matter what experiences you have (or maybe haven't had) with traveling in a trailer.
1. Tow Capabilities 
First and foremost, don't guess at what you think you can to with your car, truck, or SUV.  If you don't know the tow rating, just google it! There are plenty of Tow Guides out there to help you.  If your vehicle is not listed in a tow guide, then most likely, the manufacturer is not recommending towing with it.  Be careful, though, there probably is a hitch made for it anyway, and just because the tow capacity of the hitch says 2000 lbs and it will fit on your car, that doesn't mean your car can tow 2000 lbs!  The forums will give you examples of what people have done, but again, it's best to stick with the published tow rating.
On the other hand, you might be surprised at what that vehicle can tow! Some small truck and SUVs can have big tow capacities!  If you are confused about the specs of your vehicle which effects the tow rating, call your local auto dealer for help. The manual will also have tow capacities, but most likely there is a graph with different specs so you will need to know what you have.  If you are just dying to pull into that dealership you are passing by and you haven't figured out your towing capacity yet, just ask them! They should be able to help you figure it out!
2 Length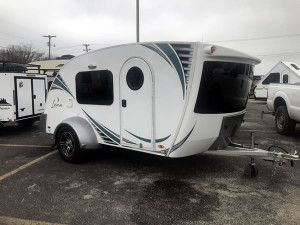 OK. So you know what you can drag behind you, and you are at a dealership.  The standard opening line is "What are you looking for?". Rest assured, "I don't know" is a perfectly acceptable answer.  The first thing to consider is how long of a trailer you will be comfortable with. If you are not limited by towing capacity, think about your comfort level.  Smallest one possible? Medium but not too big? Doesn't matter, you can tow anything! Here's the checklist for size:
How comfortable are you towing?

Where are you going to park it?

What kind of traveling will you be doing?  Logging roads? Switchback?
Some roads and parks have length limits, usually in the 20' range.
Bonus Tip!
Traveling in the mountains?  If so, you will want to keep your weight well under the towing capacity of your vehicle.
3. Bathroom 
Some folks are flexible on this, others are not.  
If you need a big shower, well, I hope you are comfortable with a larger trailer!  Showers in campers tend to be on the smaller side, but for most people they are adequate even in smaller trailers.  There is a big difference in having a shower curtain, a sliding shower partition, or a solid shower door.  In any case, be sure to step in the shower when you are shopping to see how it feels and check out the headroom.  

And yes, I suggest you sit down on the toilet as well.  Knee room on toilets can vary, so be sure you knees will fit inside the bathroom and the door will shut!  

Storage in the bathroom is nice, but sometimes limited.  As long as you can fit the basics in or near the bathroom, it usually works well enough.  If there's lots of cabinet space in the bathroom, it's even better!

Wet bath…  this is where the toilet and the shower are in one compartment.  The toilet gets wet when you shower, and for some, that's just too yucky to handle.  A wet bath is usually in a very small trailer, so real estate is at a premium and let's face it, how long are you planning to be in there?  If you are in a campground, chances are the public shower is a good alternative and your wet bath is just for emergencies! If it's a choice between living area and bathroom, it might be worth the compromise on this one.  
One more consideration.  If you are looking at a very small trailer, can you do without a bathroom altogether? If not, that needs to be the first requirement you ask for when you meet your sales person!  
4. Slide out
Most all trailers have a slide out, but there are some that do not.  If you have had a trailer in the past that had an unfortunate leak around the slide out, you may want to avoid it altogether.  If you have just heard all the horror stories (or imagined them!) then you might feel the same way! The truth is, most slide outs never have a problem.  It is however, one more moving part and like all moving parts, there will be some percentage of failure that requires attention down the road. If your skittish and comfortable in a trailer without the slide out, great!  If not, take good care of your slide out and chances are, you will have a perfectly functioning slide out for many years!
5. Sleeping Arrangements
The question is always how many and where.
The #1 reason people trade in their smaller trailers (at least at our dealership) is because they want a walk around bed, commonly called a "north – south" bed.  If you have an "east – west" bed, or more endearingly called a crawl-over bed, you may get tired of it really quick. Again, if you want or need a small lightweight trailer, that may be your best option but at least you will make that concession knowingly after weighing all options!

Another big reason people are unhappy with their trailer is because they bought it with someone else in mind!  Usually the someone else is grandkids that they hope will join them on their adventures! While it's really great to want to include them, most of the time the grandkids (or other friends and family you hope will come along) only come along once, maybe twice a year.  The rest of the time, you might be stuck with a trailer that really doesn't work that well for YOU! Unless you are super sure that you will have regular visitors, but the space that works for you alone. If grandkids want to join the fun, they probably won't mind a pallet on the floor or a converted dinette!
6. Seating area
Most small trailers have a dinette area for seating, and some will have an additional sofa or set of chairs.  For long trips with 2 or more people, a second seating area can be super nice! It makes for a long day if you are sitting at a dinette all day waiting out the bad weather. Murphy beds (where the bed turns into a sofa) are available in some trailers, giving you the best of both worlds!   For the smallest trailers, this is not an option, but depending on how you use your trailer, it might be a really important addition to your wish list.
7. Kitchen space
You can't make a top 10 checklist without including the kitchen options.  Consider what you will be cooking, or not cooking.
If you love to cook when you are camping, you have the option of cooking inside or outside (at a camp stove or outdoor kitchen set up). 

Is there enough counter space?  Glass top stove and sink covers really work well as counter space in a smaller trailer.  Is the dinette table in a good place to double as counter space?

Microwaves and microwave/convection ovens are handy, and can double as storage.  

Ovens seem to be and "don't want" or "must have",but the truth is, very few ovens on used travel trailers have actually been used, so think realistically about this one before you insist on an oven!  

Double sink, single sink, well, I guess that depends on your habits and preferences but again, you might need to make a concession here if other things are more important.  

Storage, a pull out pantry, space for a coffee maker….  All important considerations depending on how you camp and cook.  

Refrigerators are generally sized to fit the kitchen, and unless you a serious traveling cook, most folks can make that part of the kitchen work for their needs.
8. Awning
In the lightweight trailer category, awnings, tent rooms, visors, etc. are soooo  useful. A traditional designed travel trailer will have a side awning, and if it's late model, it's probably an electric one.  Electric awnings are a game-changer. They are out providing shade and weather protection within seconds of pushing a button. Often, there is an LED light strip to provide really cool lighting at night!  Since putting the awning out and in is so effortless, it's great for a quick roadside picnic! Regardless of the situation, you will never hesitate to put out the awning because it is equally as effortless to put it away!  If a manual awning is the only option, they take a few minutes, but with a few practice runs, you should have the awning ready for use in under 5 minutes. Tents and screen rooms that attach to the trailer are a bit more time consuming, so consider whether you will take the 15 to 30 minutes to set them up.  If you usually stay a few days in the same place, it is totally worth it!
9. Tank sizes
Yep, we're back to that bathroom question again, sort of.  Most trailers have a fresh tank, a gray tank (shower and sink water) and a black tank (toilet water).  Now you don't have to use the fresh water tank if there is a hydrant nearby. You can simply connect the hydrant to the city water fill on the outside and the pressure from the hydrant will keep water flowing in the sink, shower and toilet when you need it.  For most of us, the gray tank is the one that fills much faster than the black. Washing dishes, showers and cooking take a fair amount of water and if you're not careful, that gray tank fills fast. With a little practice and adjustments, you can greatly reduce your gray water.  The toilet water seems to be the concern of most buyers, but really, a full black tank rarely is the reason for a trip to the dump station. For most, a 15-20 gallon gray tank is plenty for a weekend.
10. Love it
That's right!  There are so many considerations when shopping for the right trailer, some folks forget to think about whether they actually like it or not!  Do you enjoy walking in? Are you smiling when you walk inside and sit down? Can you see yourself spending time in there, decorating it, showing it off to your friends?  Now I'm not suggesting you buy a trailer to show it off, but if it makes you happy you will want to share that so it's a way to gauge your feeling about a trailer after you have stepped inside what now feels like a gazillion different ones!  
Now…
We may not have mentioned something that you feel is super important to you…  but if you already know what that thing is, you are one step towards picking out your perfect camper.  Hopefully this list of the top 10 criteria that we see everyday will give you some confidence to move forward, find out what's important to you, pick a trailer and start having some adventures!  
Happy travels!