Find the Right Lightweight Trailer for You
Looking for a new trailer and not sure what to choose?
Our first instinct as shoppers is to choose the one we like the best.  We look at the outside style, the inside décor, and start out thinking bigger is better.  Not so fast! Here are some ideas on locating a trailer that works for you.
Towing Capacity
First, find out how much your vehicle can tow.  You will want to leave some room in your weight calculation for your gear, water, propane, etc.  A rough estimate of 500 lbs (if you are not carrying a bunch of fresh water) should be sufficient.  If it's a mini trailer, maybe less!
Here's our online tow guide! –> https://www.princesscraft.com/tow-guides
Fit in the Garage?
Most trailers won't, but if you're willing to stay on the smaller side, there may be more options than you think! In the same vein, if you need to find storage the dimensions of the trailer may dictate what storage options are available to you.
Walk around bed
If there are two people in one bed, it's super handy to have a space on both sides to get in and out.  If your trailer is a smaller lightweight, you may decide to go with an "east – west" bed where there is only one side open for entry and exit.  We endearingly call this the "crawl-over" bed. Be sure you are willing to crawl over if you go with this style! (Camp with someone you love!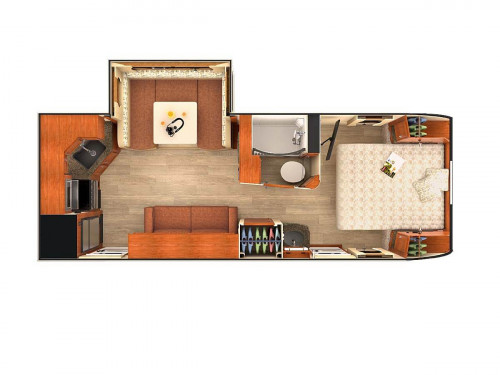 Spacious bathroom
A comfortable bathroom is important in a home, but in a trailer, some folks are willing to pair down to the necessities.  Do you fit in the shower? Do your knees hit the wall when you sit on the toilet? Do you need storage for lots of medicine, makeup, etc., or will a travel Kit that can be stored in a cabinet work for you?
Kitchen space
if you're a cook,  you may need more space. Look at the versatility of the space, like using glass stove tops as counter space, and decide whether you can work comfortably there.  Who doesn't want a bigger kitchen, right? Be practical and don't overestimate your gourmet cooking on the road! (Or, learn from the pro, our friend Kate Dunbar, who wrote the book The Campground Gourmet.)
Number of beds
It's easy to plan for the people you know will be camping with you regularly.  If you hope your grandkids, kids or friends might join you, that's great! Unless you have a long history of camping together,  you might be overestimating their participation. Plan first and foremost for the core campers!
Electronics
In this day and age, you probably want a TV and stereo.  If the trailer you like doesn't have this, just ask if it has an antenna.  If it is prepped for a TV, you can easily add your own store-bought later on.  If it's not, there's always other options to connect to music and TV if that trailer turns out to be otherwise perfect for you. We LOVE portable bluetooth speakers. That may be all you need!
Storage
In a lightweight trailer, some folks need very little storage, others want to have every possible want and need at their fingertips.  Decide what the essentials are for you and check out the storage options. If you can imagine where you would put clothes, kitchen items, food and camping gear, you can usually find good places to put the miscellaneous items.
There are other specifics you might want to know about, like construction, warranty, insulation, and other details that make a trailer unique.  Once you narrow down the basic functions to see what you really need for your style of travel, you can compare the frontrunners to make your decision.
Want to take our survey on which features are most important for you?